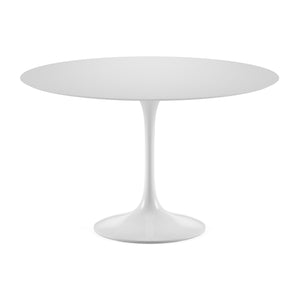 Contact our expert team: help@italyclassics.com for any additional information.
100% Made in Italy. Pedestal in white lacquered cast aluminium. Top in bevel-edged available and in laminate plastic white.

The "Pedestal Series" – the famous group of chairs and tables with a single leg made by Saarinen beginning in 1956 – met two needs: on one hand, they eliminated the "chaos" of chair and table legs inside the living space, bringing formal order. On the other hand, they gave the product a formal and constructive unity, honoring the principles of "organic design": one form, one piece, one material (plastic). Saarinen was forced to give up this last principle: plastic could not hold great weights; therefore it was necessary to make the pedestal from an aluminium cast. However, he worked in prospect of a time in which production techniques would make his original idea possible. To give the forniture that fundamental constructive unity: "one piece, one material".
Product details
Garanzia:

10 YEAR WARRANTY

MANUFACTURED BY CRAFTSMEN