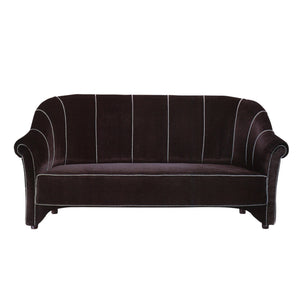 Contact our expert team: help@italyclassics.com for any additional information.
100% Made in Italy. Solid wood frame covered with polyurethane foam. Upholstery in velvet with borders in passementerie white/black or same colour of the velvet.

This classic velvet club chair was created in 1911 for the living room in Kohler's house. According to scholars, this was a remake of a previous model, designed for the vestibule of the Stoclet Palace in Brussels (1905-1911), one of Hoffmann's greatest masterpieces. That model, however, was mounted on wooden feet, and showed a moderate use of the edge in two contrasting colors. In this case, the armchair and the sofas are characterized by the use of a decorative passementerie edge, which emphasizes the satin velvet. Hardwood frame. Polyurethane foam padding. Velvet upholstery with edges in white/black passementerie or in the same colour of the velvet.
Product details
Dimensions: L200 P73 H97 cm
Inspired by: Hoffmann
Garanzia:

10 YEAR WARRANTY

CHROMAGE TOP: high thicknesschrome manual brushing and metal
MANUFACTURED BY CRAFTSMEN
UNIQUE STRUCTURE AND SPECIAL WELDING