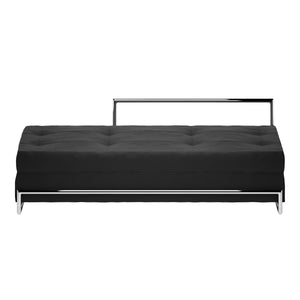 Contact our expert team: help@italyclassics.com for any additional information.
100% Made in Italy. Frame of chromium-plated steel tubing. Upholstered wood frame covered with expanded polyurethane foam. Leather covering.

"It offers a pleasant and comfortable seat and, above all, is particularly well suited to relaxing". This is the "Daybed" as Eileen Gray described it. Its uniqueness is that it provides access from all sides and it looks beautiful from any different perspective. This elegant piece is best showcased in spacious and well-lighted rooms. The Daybed is the expression of the designer's new stylistic language, and of the development that led her from Art Deco to the stricter and more basic forms of Modernism. This can be seen in the use of steel tubes, which, according to some, were actually used by Gray before Breuer, Le Corbusier, Mies, Stam or Herbst. The Daybed was also designed for Madame Mathieu-Lévy's house in Rue de Lota, but was placed in the famous "Maison en bord du mer (house by the sea)," which Gray designed and built in Cote d'Azur for herself and her companion Jean Badovici, publisher of the magazine "Architecture Vivante". Polished chrome tubular steel frame. Interior wood frame. Polyurethane foam padding. Leather upholstery.
Product details
Dimensions: L190 P85 H61 HS41 cm
Inspiré par: Eileen Gray
Garanzia:

10 YEAR WARRANTY

TOP QUALITY: 0.8 - 1 mm thick. natural grain
CHROMAGE TOP: high thicknesschrome manual brushing and metal
MANUFACTURED BY CRAFTSMEN
UNIQUE STRUCTURE AND SPECIAL WELDING