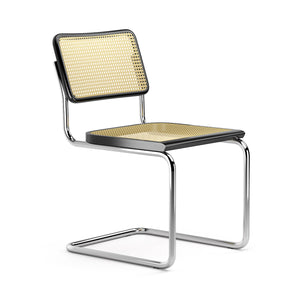 Contact our expert team: help@italyclassics.com for any additional information.
100% Made in Italy. Polished chromed or lacquered steel tube frame. Vienne straw-bottomed seat and back. Beech wooden board, natural or black lacquered.

The "Cesca" chair bears the name of Breuer's daughter. Designed in 1928, it was the object of a dispute into German courts. Finally, the patent for the cantilever chair was assigned to Mart Stam, but in those years, many people worked on the idea of a chair constituted by steel tubes, taking advantage of the tensile properties of this "new" material, which eliminated the back legs. Breuer and Stam worked together on this idea, as did Mies van der Rohe and others involved in the Bauhaus. Whether it was the first or the last, the Breuer cantilever shows important design and construction differences, beginning from a wooden frame that makes the seat and the back rigid. In this way, he avoided to use support bars, placed below the seat and behind the back in the cantilevers by Stam and Mies. Polished chrome or lacquered tubular steel frame. Vienne woven-cane seat and back, with natural or lacquered beech wood frame.
Product details
Dimensions: L47 P56 H80 HS45 cm
Inspiré par: Marcel Breuer
Garanzia:

10 YEAR WARRANTY

CHROMAGE TOP: high thicknesschrome manual brushing and metal
MANUFACTURED BY CRAFTSMEN
UNIQUE STRUCTURE AND SPECIAL WELDING