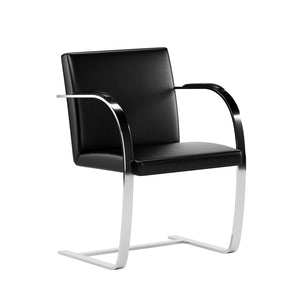 Contact our expert team: help@italyclassics.com for any additional information.
100% Made in Italy. Mirror polished and chromed flat steel bars. Internal structure in wood filled with polyurethane foam. Leather or fabric upholstery. Armrests with leather cover.

The flexibility of steel, its tensile properties, and its solidity, made possible the reinterpretation of the chair with the elimination of the back legs. In the 1920s, this idea was retrieved many times. Mies van der Rohe presented the first "cantilever" in 1927 at the exhibition of the Deutsche Werkbund, which he organized in the Weissenhof quarter of Stuttgart. There is an ulterior adaptation, carried out between 1928 and 1930 for Villa Tugendhat in Brno (Czech Republic). It seems that in the villa's breakfast room there were two dozen of them. Even in the "Brno", it's easy to recognize one of the central themes in Mies van der Rohe's ideas on architecture and furniture design (two closely interwoven concepts): the search for fundamental and primary elements, and that process of eliminating the superfluous, of purification, which was summarized with the famous "less is more". Polished chrome steel frame. Internal wood structure, padded with polyurethane foam. Leather or fabric upholstery.
Product details
Dimensions: L58 P57 H78 HS44 cm
Inspiré par: Mies van der Rohe
Garanzia:

10 YEAR WARRANTY

LEATHER QUALITY: 0.8 - 1 mm thick. natural grain
CHROMAGE TOP: high thicknesschrome manual brushing and metal
MANUFACTURED BY CRAFTSMEN
UNIQUE STRUCTURE AND SPECIAL WELDING