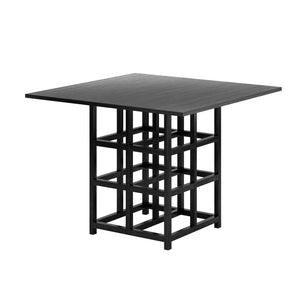 Contact our expert team: help@italyclassics.com for any additional information.
100% Made in Italy. Ashwood frame and veneered top, open pore black lacquered (available on demand also stained walnut).

This series (tables, chairs and sideboard) was designed by Mackintosh in 1918 for 'Candida Cottage', the country home of W.J. Basset-Lowke, a Southampton industrialist. At least, this is the story according to scholars: the furniture was, in fact, never made while Mackintosh was alive. It was rejected by Basset-Lowke, who judged the plans too modern for the times. Only the designs survived, kept by the University of Glasgow, which contain no annotations regarding the work. Open pore black lacquered ashwood frame (on request, also available in other colours). Mother of pearl inserts inside the chairs and the sideboard. For the chairs, seat with handmade braided straw. Oval table with two sides reclining top.
Product details
Dimensions: L100 P100 H76 cm
Inspired by: Mackintosh
Garanzia:

10 YEAR WARRANTY

TOP LEATHER: 1.2 - 1.4 mm thick. natural grain. aniline leather
CHROMAGE TOP: high thicknesschrome manual brushing and metal
MANUFACTURED BY CRAFTSMEN
UNIQUE STRUCTURE AND SPECIAL WELDING