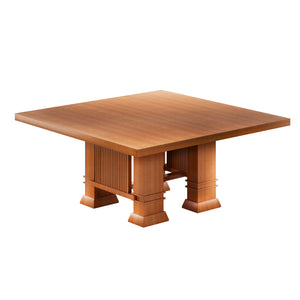 Contact our expert team: help@italyclassics.com for any additional information.
100% Made in Italy. American cherry solid wood frame. American American cherry cherrywood, natural or lacquered, hollow-core top. Top available also in 140x140 or 150x150 cm.

The Allen table was designed by Wright in 1917 for the residence of Henry J. Allen in Wichita, Kansas. The "Taliesin2" table dates to 1925; Wright used it as a dining table, in the living room of his famous studio-home. He built "Taliesin House" in 1911 at the top of a hill in Spring Green, in southern Wisconsin. It was destroyed twice by flames and rebuilt each time. The solidity and austerity of the tables are reminiscent of the style and quality typical of the movement of American Arts and Crafts. At the same time, there are evident traces of the marvellous and ageless architecture of Frank Lloyd Wright: the simple, elegant use of geometry, the search for harmony, the close relationship with nature. American cherry hardwood frame. American cherrywood hollow-core top, natural or lacquered, also available in different sizes.
Product details
Dimensions: L160 P160 H75 cm
Inspired by: Frank Lloyd Wright
Garanzia:

10 YEAR WARRANTY

MANUFACTURED BY CRAFTSMEN
UNIQUE STRUCTURE AND SPECIAL WELDING